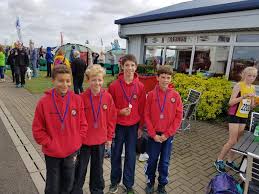 Shaftesbury Barnet Harriers have recently celebrated their 125-year anniversary, after being formed in 1890. This elite level athletic club is based in Hendon, north west London and their home track is Allianz Park. It competes in many track and field events, cross country events and road relays, including the British Athletic League Premiership.
In 2016, their Junior men's team emerged as European Champions at the European Champions Club Cup Junior Group A in Spain. They had 15 members at the European, European Youth, World Junior and Olympic Games including Daryll Neita who won a silver medal in the European Championships, with the GB&NI 4x100m relay team. In the Rio Olympics Daryll Neita won her second championship medal (bronze) in 4 weeks with the GB&NI 4x100m relay team.

Shaftesbury Barnet Harriers have had representatives at each of the 8 Olympic Games that have taken place between 1984 and 2012. The Club has had a total of 31 members as summer Olympians with Simone Jacobs competing in 4 consecutive games and Natasha Danvers winning the bronze medal in 400m in 2008. SBH have also had countless representatives at World, European and Commonwealth events.
Their UKA qualified coaches (DBS certified) cover the following disciplines – Endurance, Sprints, Hurdles, Long Jump, Triple Jump and Throws. Coaching takes place on Tuesday and Thursday evening. They also have regular Wednesday night sessions (from 7 PM to 9 PM) in high jump and pole vault. The charge of £5 per session for Seniors and £3 per session for all younger age groups is payable on the night. Users of the stadium can register as Allianz Park members free of charge. As a member, you will be entitled to receive a discount of at least 10%.
Club joining fee for active athletes of all age groups is £55 (Includes club vest and shorts), plus the current England Athletics registration fee of £14. Annual Club renewal fee is £35.
The club provides a highly enjoyable way for young people to try running, jumping and throwing activities as they take their first steps into athletics.
Shaftesbury Barnet Harriers is one of the few athletic clubs in England with the full Clubmark status. Clubmark is an accreditation which Sport England makes available to community sports clubs which fulfil certain criteria. Its declared aims are: "Higher standards of welfare, equity, coaching and management in community sports club" and "Making sure the nation's sports club infrastructure is safer, stronger and more successful".